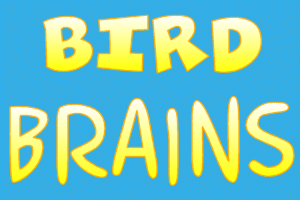 by MJ Gallagher
© 2004
Sketch: "Bugs"
Characters

Bird:

Sees the world the way maybe it ought to be seen.

Sydney, "The Brain":

Hands down, the smartest kid in school.

Cookie:

Their pal from school.
EXT. PARK - AFTERNOON
BIRD AND SYDNEY ("THE BRAIN") ARE DISCOVERED NEAR THE POND IN FRIENDSHIP PARK.
SYDNEY INSPECTS AN INSECT ON A LEAF, WHILE BIRD RUNS BACK AND FORTH WAVING HANDS IN THE AIR.

BIRD
Butterfly! Flutterby! Flying high up in the sky!
SYDNEY
Will you knock that off? Iím trying to study Coleoptera bijoux.
BIRD
I didnít know you were taking that in summer school, too. Iím working on a science experiment for our nature class.
SYDNEY
Coleoptera bijoux is a jeweled beetle. Can you try to catch your butterflies more quietly?
BIRD
Iím not trying to catch them. Iím trying to become part of their environment so I can study them more closely. Like that lady and the monkeys.
SYDNEY
Apes.
BIRD
Bless you.
SYDNEY
Shouldnít you be sitting quietly in the bushes so you can study them better?
BIRD
I tried that, but I got a cramp. So I decided to fly like a butterfly! (DANCES AROUND AND FLUTTERS HANDS EMULATING A BUTTERFLY) So what is a jeweled beetle, anyway?
SYDNEY
Here, look.
BIRD CROSSES TO SYDNEY.
BIRD
Wow... It looks just like a ruby.
SYDNEY
(PULLING A SMALL JAR FROM BACKPACK)
Iím going to add it to my collection. I already have four jeweled beetles and one giant spotted grasshopper. (STARTS TO PUT THE BEETLE IN THE JAR.)
BIRD
Maybe we should contact the National Guard before it gets loose!
SYDNEY
Itís not a real giant grasshopper. Itís just called that. Itís about two inches long.
BIRD
That doesnít sound very giant, if you ask me.
COOKIE, A SCHOOLMATE OF THE BIRD AND THE BRAIN, ENTERS.
COOKIE
Hi, Bird. Hi, Brain. What are you guys up to?
SYDNEY
Hi, Cookie.
BIRD
Brain is rescuing a beetle and taking it home so it wonít get lonely like it would out here in the wild.
SYDNEY
I hardly think that Friendship Park is considered "wild."
BIRD
It can be. Very wild.
COOKIE
How?
BIRD
(LOOKING OMINOUSLY AT THE POND) You know about the ferocious ducks in the pond, donít you?
COOKIE
Iíve heard about them. My brother told me.
SYDNEY
I donít see any ducks.
BIRD
Of course not. Itís day time. They only come out at night...
SYDNEY
Ducks are not nocturnal. They donít come out at night!
BIRD
These ones do! Theyíre ferocious ducks... and they live here, in the wild. They roam the park, searching for victims. Thatís why people canít come here at night.
COOKIE
(LOOKING AROUND NERVOUSLY) Are you sure that they donít come out during the day?
BIRD
Oh, they would... make no mistake... but an army of butterflies keeps them away!
SYDNEY
Birdís been learning to control the butterflies with his mental powers.
COOKIE
You have mental powers??
BIRD
I do?
SYDNEY
You do.
COOKIE
Do you?
BIRD
I do.
COOKIE
What can you do?
BIRD
I can control the army of butterflies, remember? (BIRD CLOSES EYES AND TOUCHES HEAD, CONCENTRATING) Ohmmmmm...
COOKIE
Is something going to happen?
SYDNEY
You never know, with the Bird around.
A BUTTERFLY DARTS FROM THE SKY AND "DIVE BOMBS" COOKIE.
COOKIE
Whoah!!!! That was cool! What else can you do.
BIRD OPENS ONE EYE TO SEE WHAT HAPPENED.
BIRD
Well, I Ė--
SYDNEY
He can move inanimate objects with his mind.
COOKIE
He can?
BIRD
I can?
SYDNEY
You can.
SYDNEY PULLS OUT THE JAR HOLDING THE JEWELED BEETLE
BIRD
Oh, I can...I can!
SYDNEY
See this red jewel?
BIRD
Itís a ruby.
COOKIE
Wow....
SYDNEY
Bird will make it leap into the air and come to life.
COOKIE
No way!
BIRD
Way.
SYDNEY
Very way.
AS BIRD GOES BACK TO THE "MENTAL CONCENTRATION" POSTURE, SYDNEY OPENS THE JAR. COOKIE INSPECTS THE CONTENTS, WHICH SUDDENLY LEAP OUT!
COOKIE RUNS AWAY. BIRD AND THE BRAIN FALL DOWN LAUGHING.
END.
---

| | | |
| --- | --- | --- |
| go to... | go to... | and back to... |