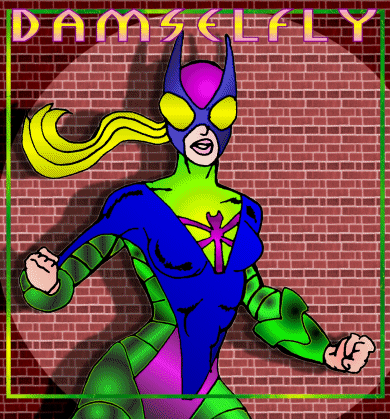 | | |
| --- | --- |
| "I put a mask on for the wrong reasons, but now I wear it for the right ones." | |
CODENAME: Damselfly

S.I.D.: Daphne Polakowski
STATUS: Mystery Girls, Active

| | |
| --- | --- |
| Location: | Bayport |
| Occupation: | Aerobics Instructor |
| | |
HISTORY:

Daphne had dated the hero known as Captain Hornet for about six months before she learned his secret. When she found out, she thought it would be good for their faltering relationship to dress in costume and become his sidekick. Unfortunately, she didn't check with him first, and he didn't take to the idea at all. In fact, he was so incensed that one night after a drinking binge, he beat her up. That's when Mummy Girl and Ravengirl found her, and decided it was time to help women come into their own. The got Daphne counseling, and when they found that they could not dissuade her from trying to be a super heroine, the decided to train her to become the best Damselfly she could be.
And it worked!

ABILITIES:

Already naturally athletic, The Damselfly has been trained by Ravengirl and Dragon Girl in various forms of hand-to-hand combat.
Designed by Sister Saturn and Wasp Woman, her uniform is a battle suit which enhances her agility and reflex speed.