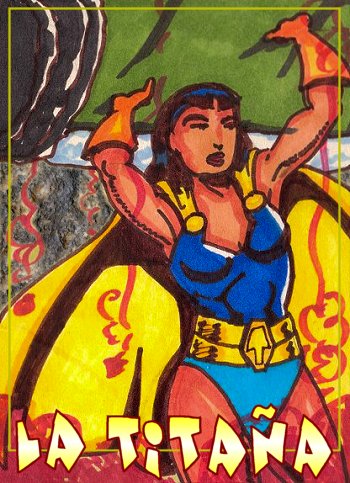 CODENAME: La Titana

S.I.D.: Uxia
STATUS: Mystery Girls, Affiliate
| | |
| --- | --- |
| Location: | Mexico City |
| Occupation: | Wrestler |
| | |
HISTORY: La Titana comes from a tribe of mountain folk in Mexico. Special waters mixed with an herb that only grows in their valley imbues the people with incredible strength.
While pursuing smugglers, the Mexican alchemist Dr. Calderon discovered the secret valley, where he met Uxia. Together, they foiled the smugglers' plan to steal the magic herb, but their efforts resulted in a cave-in in the only entrance to Uxia's home. She accompanied Dr. Calderon back to Mexico City, where she became a star on the wrestling circuit.
ABILITIES:

La Titana exhibits superhuman strength. She is a fierce wrestling combatant.